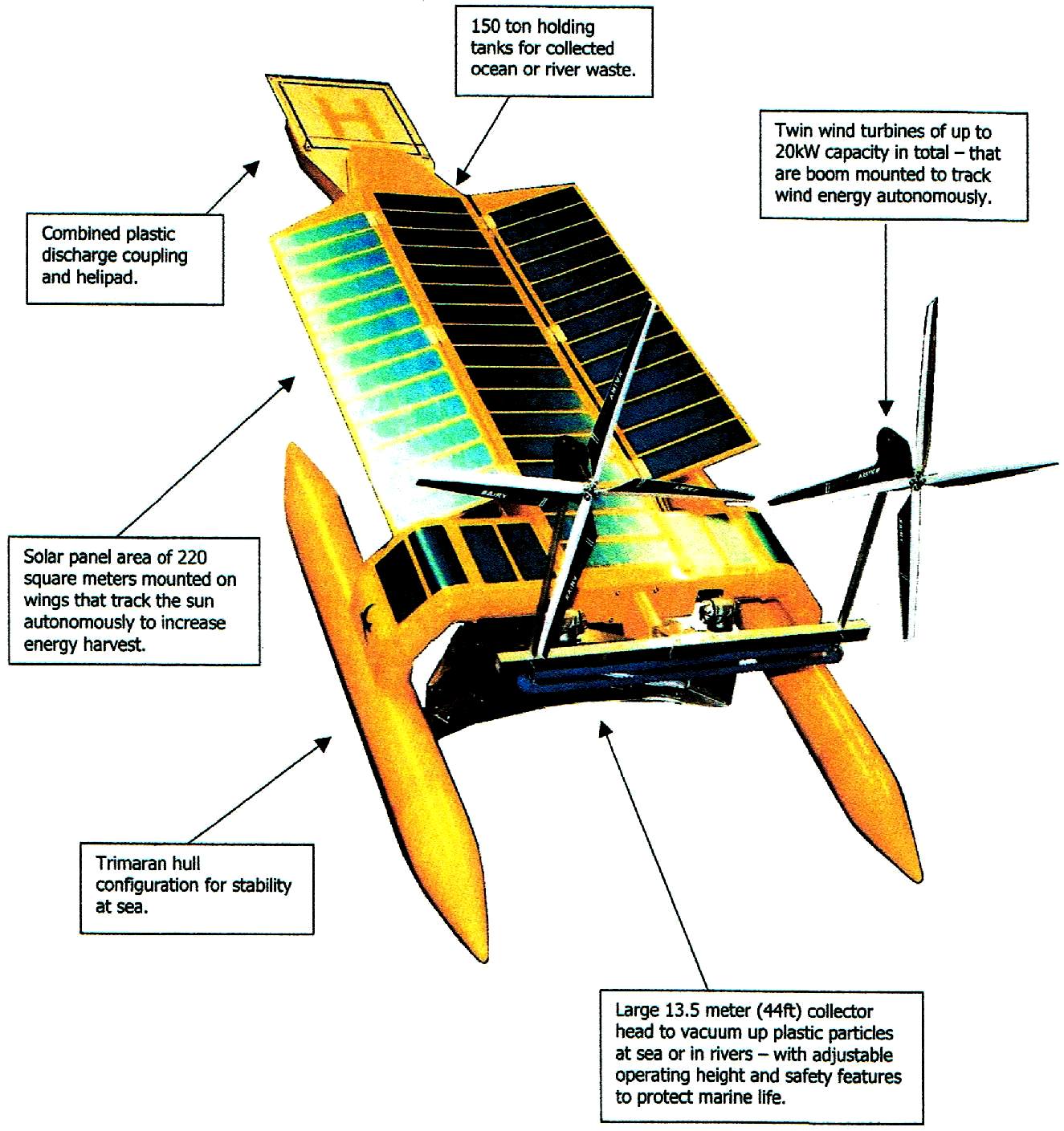 OCEAN CLEANING MACHINES - This is what SeaVax looked like in 2016. The draft specification is for a vessel capable of filtering seawater using only energy from nature, so not adding to climate change and acid oceans. The vessel needs to be of a size to cope with 8 million tons of plastic entering the sea every year, operating in numerically containable fleets to transport recovered plastic to land for recycling.
2015 - SeaVax started life as a project by Bluebird Marine Systems with the build of a 1/20th scale proof of concept model (POC) that was exhibited at Innovate UK on the 9th and 10th November. The idea was to create a vessel that can clean vast areas of water using only solar and wind energy, to avoid adding to global warming.
2016 - Bluebird Marine Systems (BMS) built a robot lab and a water test tank, then conducted model trials in water where micro and macro size floating plastic put in the tank was recovered by the POC model quite effectively. BMS conceived a low cost portable boatyard that doubled as an amphibious beach launching system to reduce production costs. This phase was supported by funding via Avaaz. BMS suffered a significant net loss during this time and could not keep operating.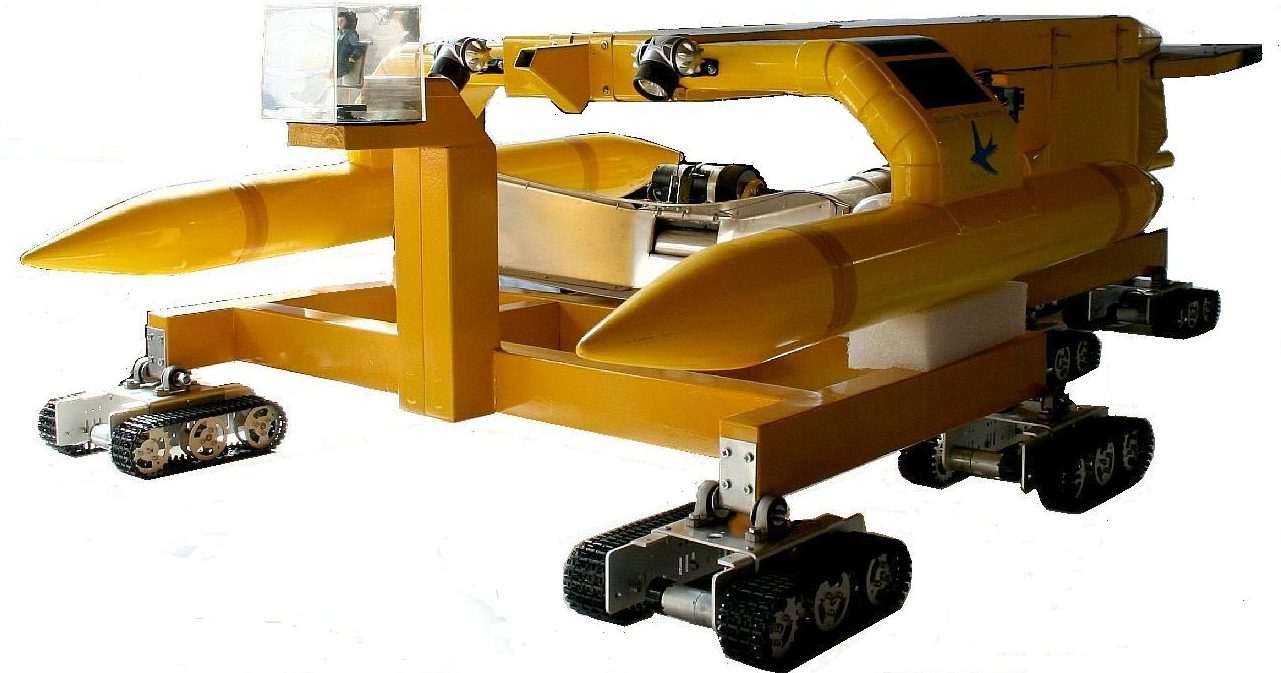 2017 - The Cleaner Ocean Foundation took over SeaVax to save the project, developing the SeaVax portable boatyard theme (launcher) called AmphiMax in 1/20th scale. An application for Horizon 2020 funding was unsuccessful putting the project back. Three trademarks were secured at no cost to the Foundation. The rebuild of a VW tour bus for ocean awareness events continued as a slower pace (an ongoing project) for future promotions.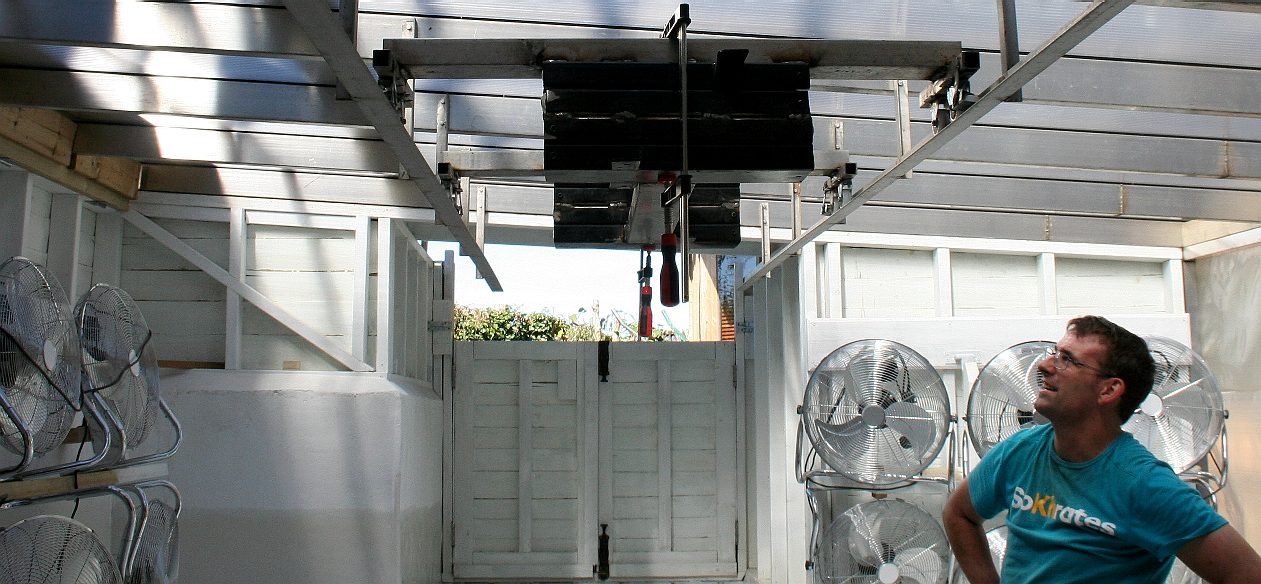 2018 - Through 2018 workshop facilities were improved by volunteers to include lining an underground water tank with GRP to empty the basin into, fitting fans to simulate storm conditions and adding a gantry loading system for the water test tank. Seawater filtration was advanced with help from a postgraduate marine biologist from the National Oceanography Center, Southampton. A 10 Year Plan was published and lobbying of the G20, United Nations and other international organizations began, attracting encouraging replies, but no offers of financial support.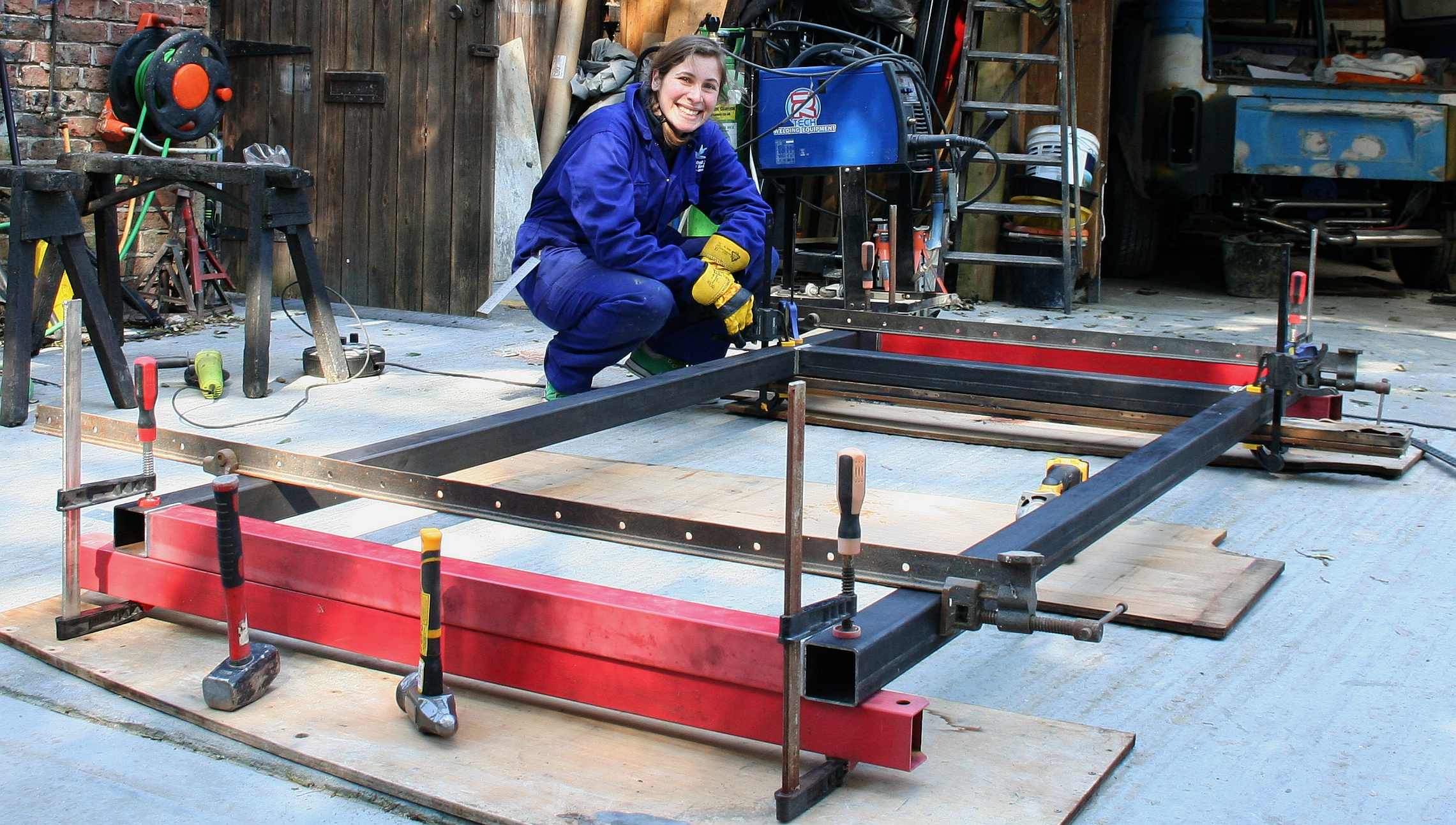 2019 - Patent rights were secured at no cost to the Foundation. A smartphone ocean awareness game is nearing launch and a quarter scale test rig is being developed to prove the wind and solar energy harvesting theory of the SeaVax concept at quarter scale, with input from a masters degree student from Université de Liège, Gembloux Agro-Bio Tech. A patent application is being drafted in relation to ocean cleaning, based on unpublished research. Again, at no cost to the Foundation.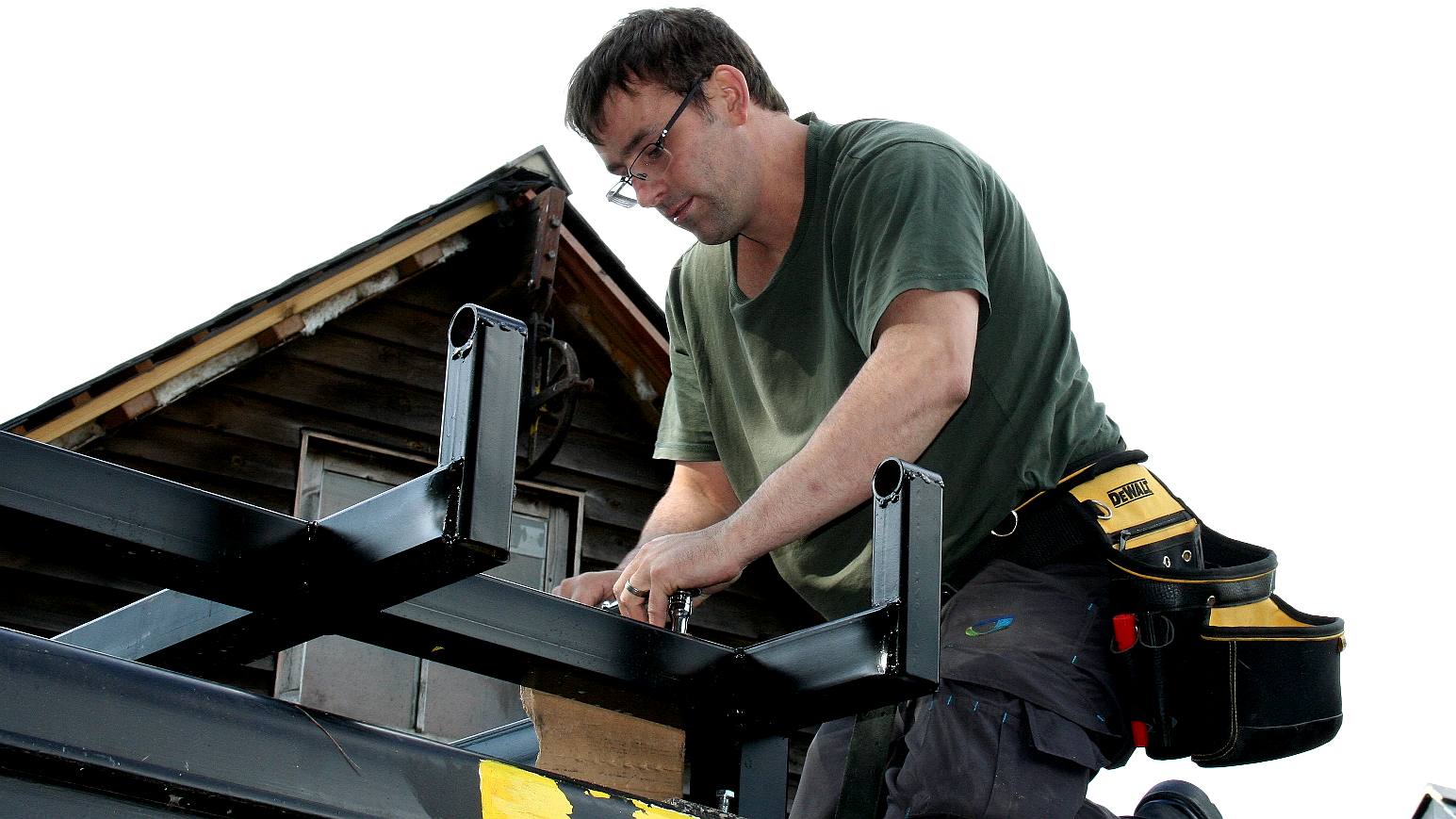 WHAT NEXT ?
If funding can be secured for 2020, the plan is to float a budget 12 meter coastal test rig, building on what has been learned from 2015 to 2019. The term 'coastal' includes river and offshore workboat.
If this build can find backing, the design will be modular so that as top up funding may be achieved, other modules can be added as dedicated work packages - hopefully, involving more masters degree students and university collaboration in Europe and internationally.
After successful build and sea trials, the next modules would be the stages of the collection and filtration head, much of which development would be in the Foundations test tank and workshops - hence at low cost to potential associates.
CIRCULAR ECONOMY
Many see plastic packaging as a menace that has no virtues - and at first sight we would have agreed. Whereas, if a system can be developed to effectively recycle plastic on land, in tandem with recovery and recycling from the oceans - then we will have created a plastic cycle that is circular in concept and sustainable. The carbon footprint for plastic is lower in many cases than other packaging mediums. We have a duty to explore the possibilities given the harm we are causing to nature.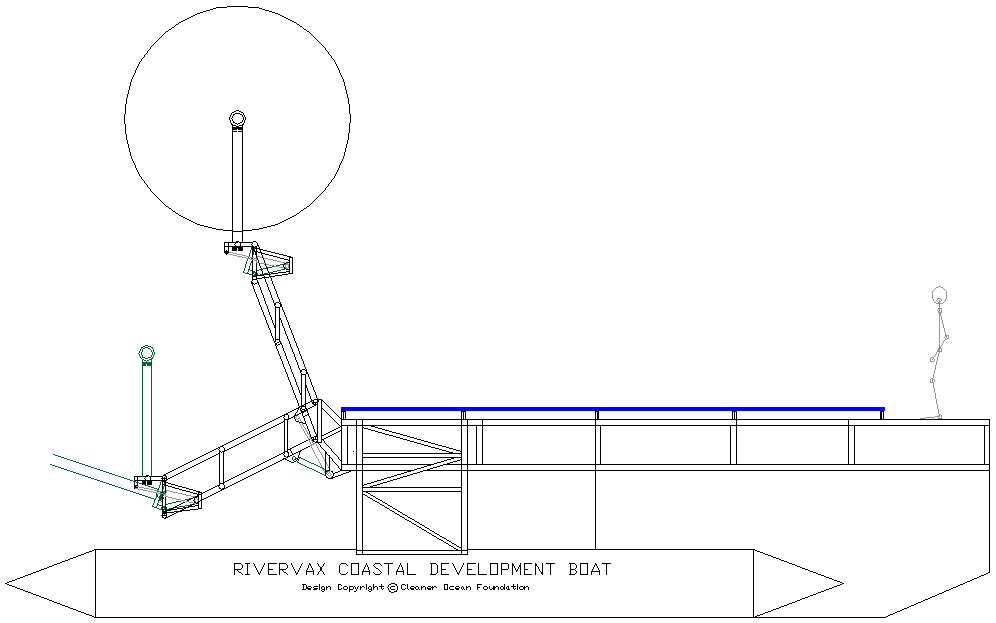 Funding being the main limitation as to the speed of development, lobbying may take over from research as a more dedicated drive toward support for ocean cleaning projects - not just SeaVax - we include any and all promising ocean cleaning projects like the samples listed below. Crowdfunding could help with costs not supported by grants, such as lobbying administration. Corporate sponsorship from like minded concerns is also a possibility for ocean awareness campaigns. At this time volunteers support the project with generous help and free facilities.
* Seabin
* Boyan Slat's ocean booms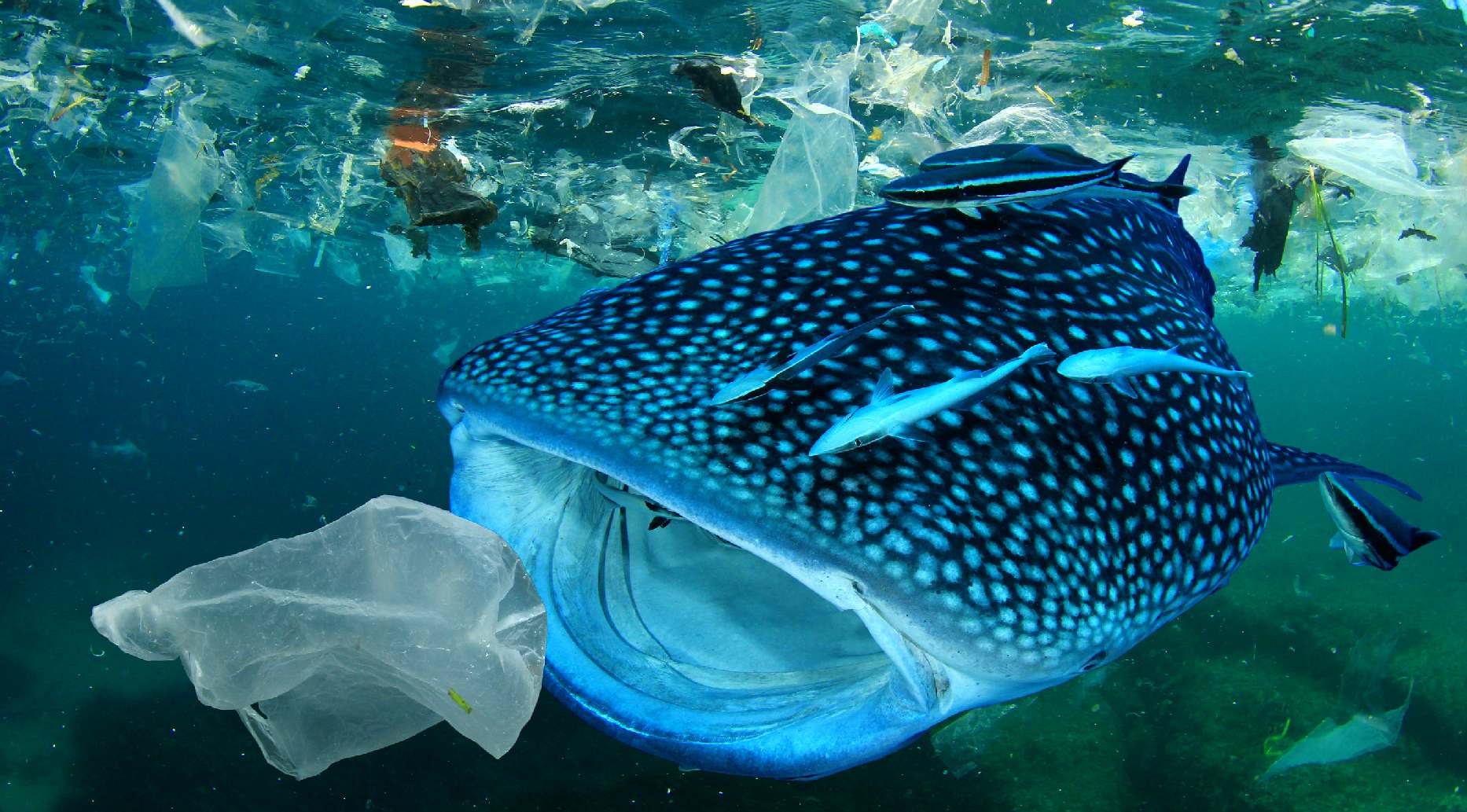 WHAT DRIVES US - It is pictures like this whale shark swimming in garbage that it is about to ingest that makes our blood boil. What are we doing, letting a situation like this develop? The fish eat the plastic and we eat the toxic fish. We are slowly poisoning ourselves and our world.