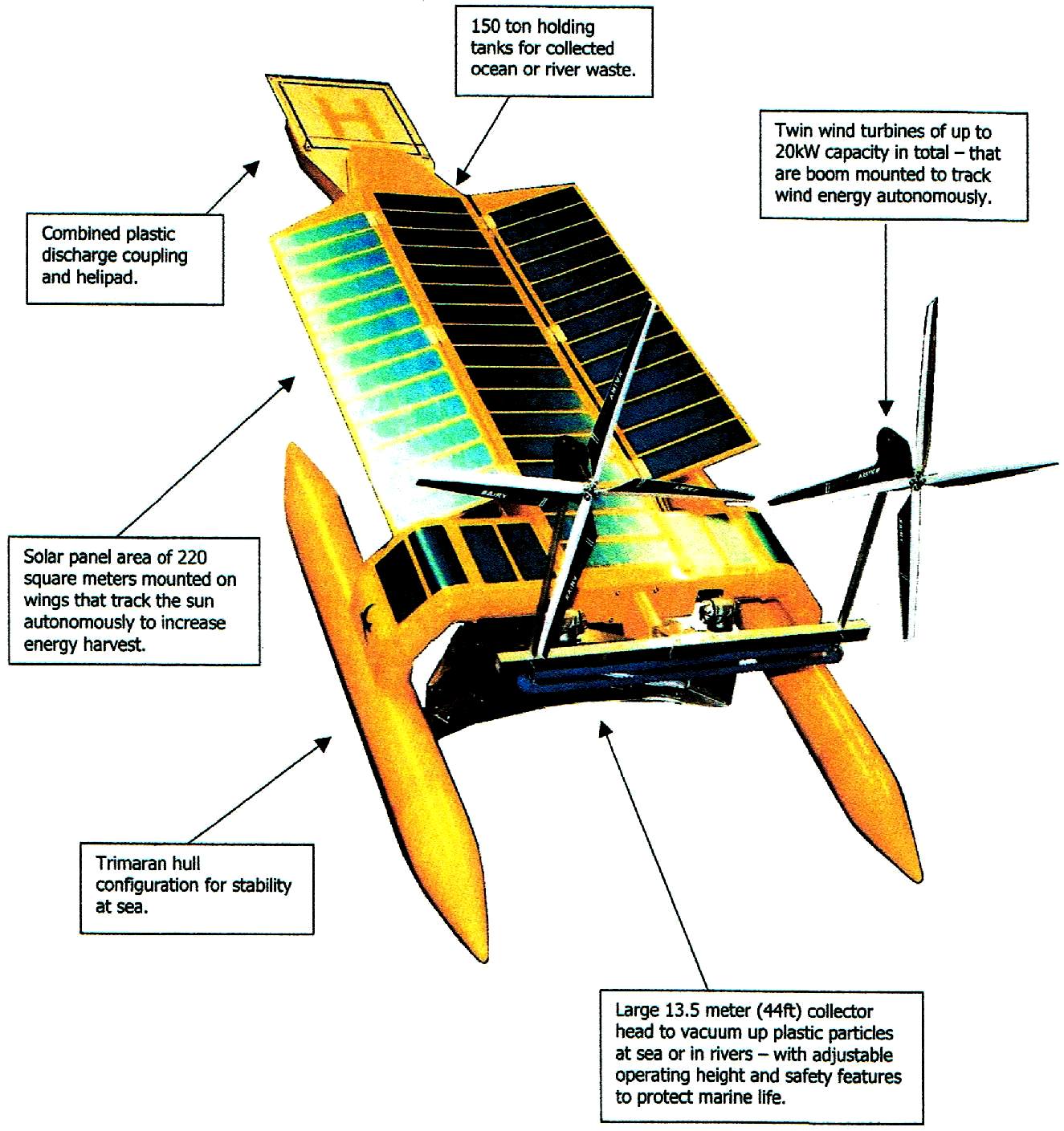 OCEAN CONDITIONER - The Cleaner Ocean Foundation are attempting to develop this plastic collecting vessel on a not for profit basis. They admit that they may have to change tack, where funding for social projects like this is near impossible to come by.
If governments agreed to pay for an ocean cleaning service, as they pay to collect household waste with dustcarts, then we might be able to raise funds via venture capitalists. But so far governments have not indicated a willingness to pay for the mess they helped to create.
At the moment they agree that they have about as much chance of getting the G20 to agree to pay for ocean cleaning as flying SeaVax to the moon. Fortunately, there are other projects such as beach cleaning and governments now making moves to reduce plastic use on land.
It is looking more and more likely that ocean plastic might be recovered with a combination of projects:
OCEAN CLEANUP PROJECTS
* Aliance to end Plastic Waste
* Boyan Slat's ocean booms
* 4Ocean recycled plastic bracelets
* Seabin
* SeaVax autonomous drones
These emerging technologies could play a part in containing the mountain of plastic that is accumulating on the oceans floors, by recovering floating debris before it sinks.
We believe that what all of the above developers would like to see from world leaders is one or more of the following:
1. An assurance of government funding to development conclusion,
2. Contracts to clean, or
3. Special tax concessions for investors on land aimed at corporate sponsorship.
We have published a 10 year plan that would see hundreds of SeaVax machines in the water, all making money for their operators after a payback period.
We would like to publish a proposed operations plan for the Atlantic, Indian and Pacific ocean clean ups for SeaVax. But that will have to wait until we achieve more funding.
The Charity Commission have confirmed that the Cleaner Ocean Foundation (the Foundation) cannot be registered because their focus is too limited. You might find that hard to believe in view of the subject matter, but it is true.
Instead of being helpful, British politicians and policy makers are making ocean cleaning research more difficult for UK based developers. Brexit is another hurdle and funds said to have been committed by the G7 to plastic research cannot go to the Foundation, because of the current funding rules regarding research and development organizations being unable to lead a consortium.
We imagine that Dutch policies are more pro ocean cleaning research. For sure organizations based in the Netherlands are eligible for Horizon 2020 and 2030 funding calls as members of the European Union.
FAST FOOD - It's not just fast food, it is our exploitative society that is poisoning the planet, without thought for the consequences. We've been living at artificially low prices at the expense of killing other life on earth.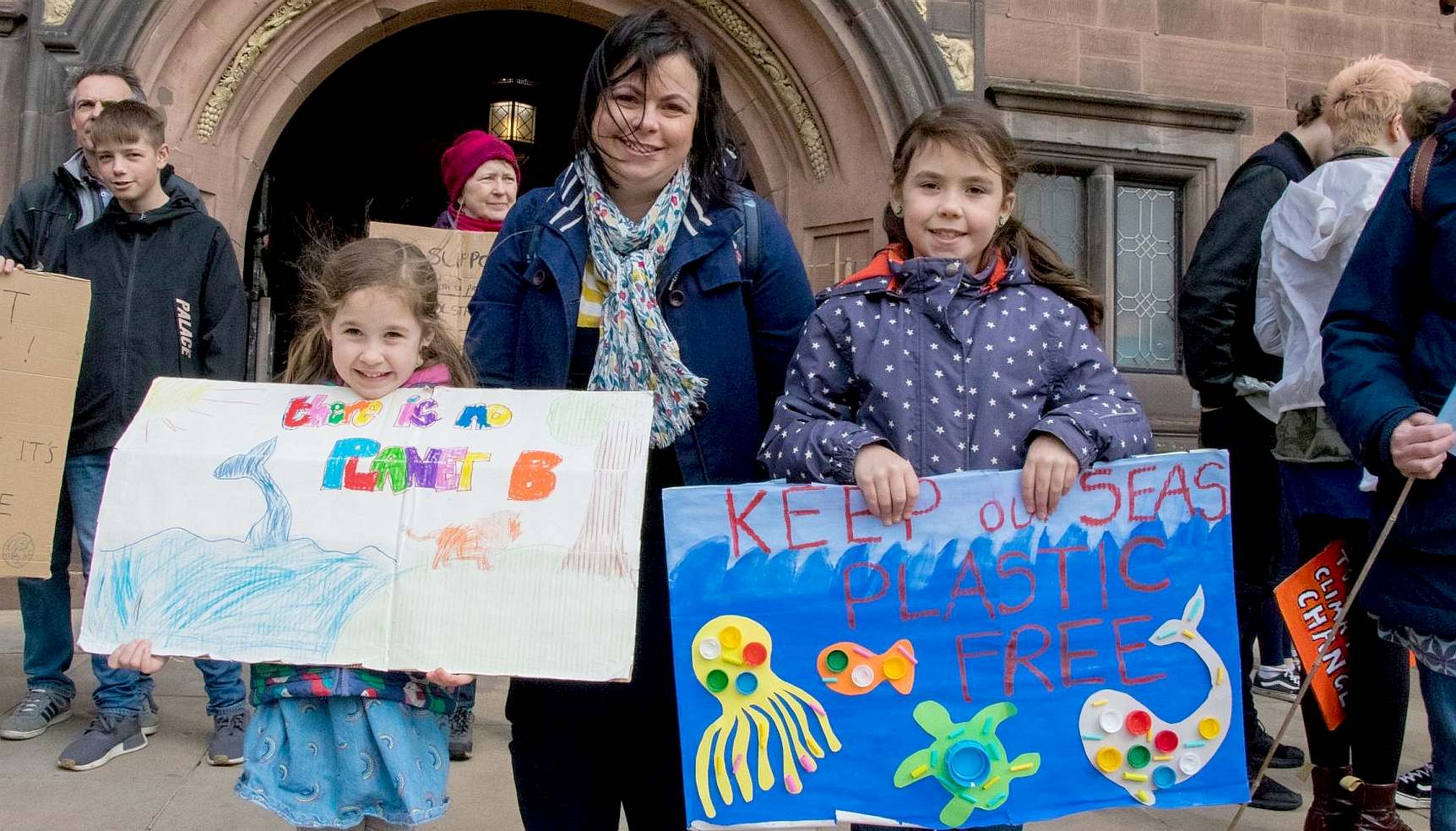 PROTESTS - One way of drawing attention to a social problem like marine litter is to peacefully demonstrate with signs like this that say it all.