TANK TESTING THE CONCEPT - This is what SeaVax and our water basin looked like in 2016. Seen here is a 1:20 scale (proof of concept) model collecting plastic that was cast on the water to simulate marine litter. Eventually, these vessels would need to be of a size to cope with 8 - 12 million tons of plastic entering the sea every year, operating in numerically containable fleets to transport recovered plastic to land for recycling. That is until we find a replacement for plastic packaging, or adopt more efficient waste disposal schemes. Note that the water basin is open to the elements. See below for development past 2018. We are the only organization that has extracted micro plastics from water like this. Our test tank facilities are ideal for development of the Pilot's collecting head.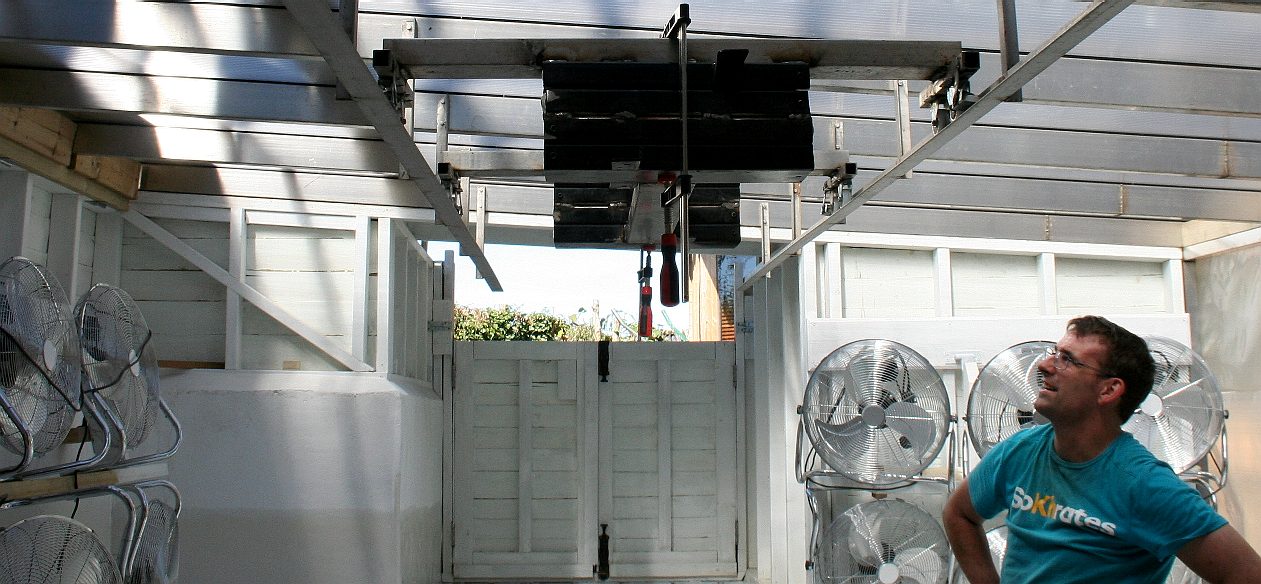 ENCLOSED WATER BASIN - We built a housing for the water tank, with an overhead gantry to deliver test models from the loading bulkhead (sluice gate) to the middle of the basin. We also fitted banks of fans to be able to simulate storm conditions for vessels that are wind and solar powered, in furled mode and in fully operational mode with turbines raised and solar wings deployed. This tank is ideal for testing the variable filter head that is to be fitted to the proposed Pilot vessel in 2020-2021. Copyright © photograph July 15 2018.
2016 TEST HEAD - Construction of an alloy collector head from early experiments showing the inline shredding filter that is to be replaced with a more efficient system as part of the proposed development - including scaling up. This component was only for macro and micro plastics of one size. The proposed pilot vessel will be able to cope with different sizes of small plastics, all the way up to large objects. The development of this concept to cope with micro and macro size particles is crucial to the effective operation of any water filtration machine. Otherwise, clean up operations could harm marine life. Hence, the need to be able to identify biota, such as not to harvest that while trawling for plastic. We are the only organization that has extracted micro plastics from water in volume.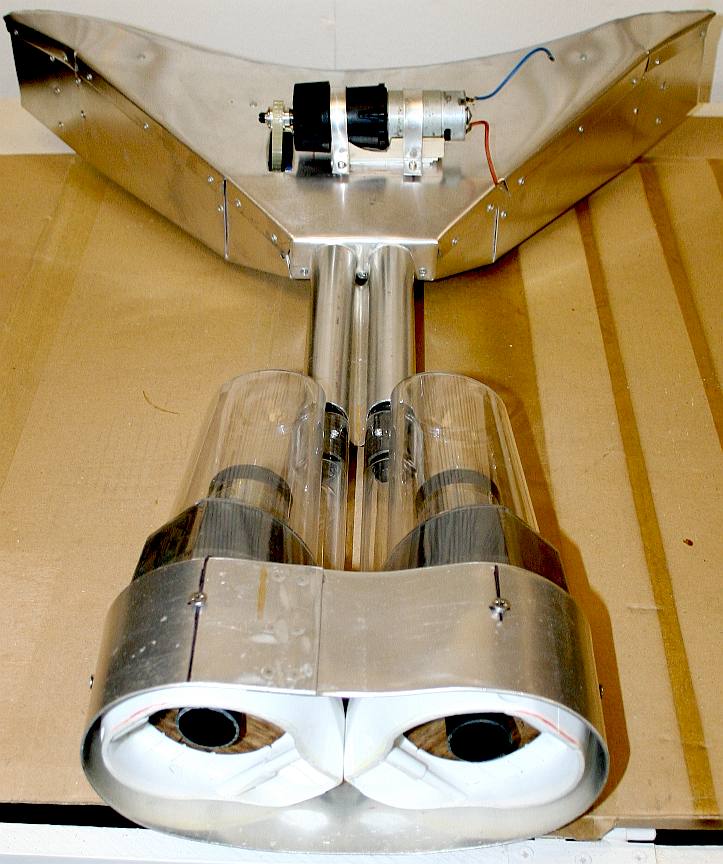 FILTRATION - The prototype alloy collector head and hydrocyclonic filters in series. Twin pumps (not shown) pulled water through the system as needed. This head was fitted to the proof of concept model at the top of this page for tank and other tests. There will be other filtration stages ahead of any version of this system, to include identification sensors, to deal with bigger plastic objects upfront, and prevent marine biota from entering the works, where plastic is the target.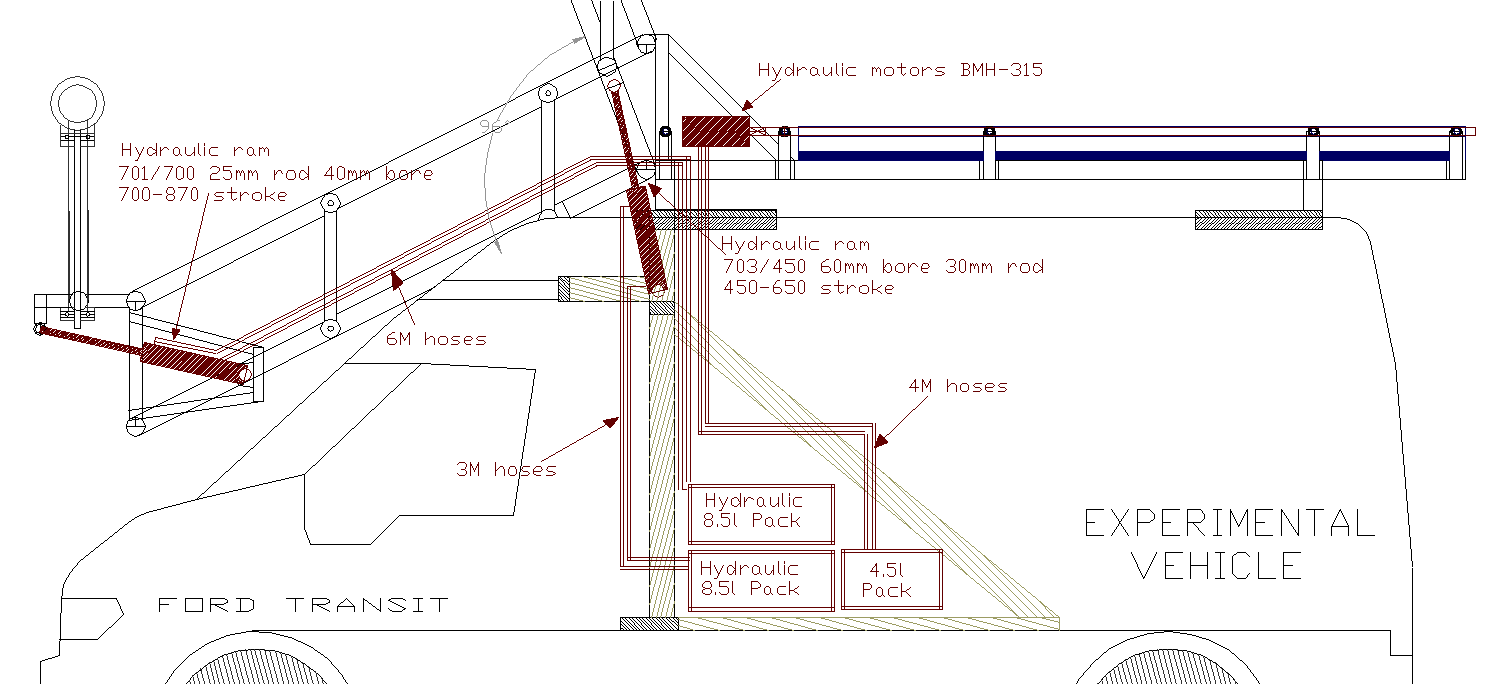 CAD DESIGN - Beginning in March and ending in May 2019, the Cleaner Ocean Foundation designed an experimental energy harvesting rig to raise and lower wind turbines and get a feel for the hydraulics. The brief was to keep the project low cost (under £5,000) and that the rig should fit into and onto a standard LWB Ford Transit van. The rig included solar fold out wings that are to be tested in 2020, before fitting a slightly larger system to a prototype vessel - an example of which is the Pilot at the head of this page. Click on the diagram above to see this drawing come to life as they cut steel, welded and fitted the frame and mast to the donor vehicle..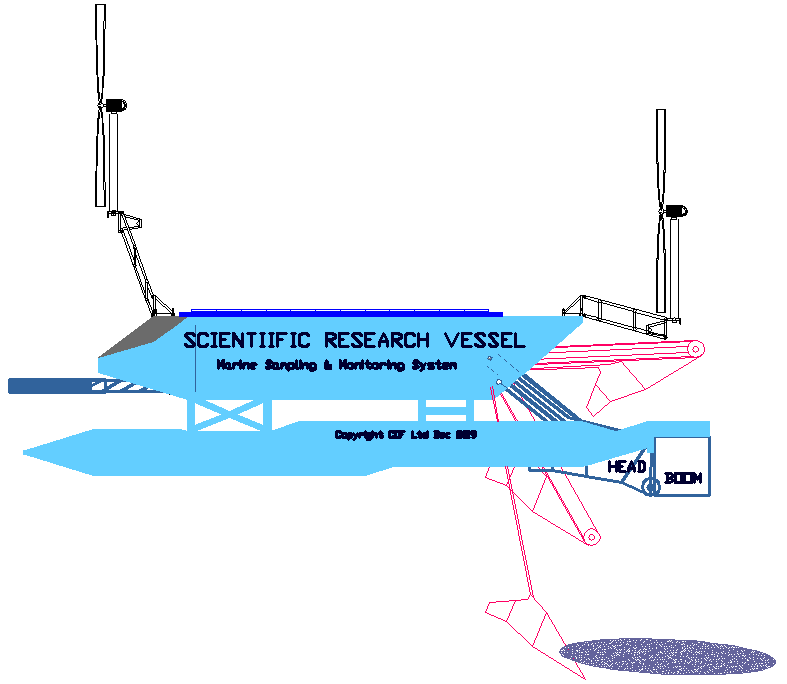 ZERO CARBON PERSISTENT MONITORING & RECOVERY - Machines like the proposed 17 meter Pilot SeaVax above could provide sufficient energy to sample the marine environment continuously, also able to transport the sensors and sampling equipment anywhere in the world without using fossil fuels. The head of this machine can be raised out of the water during transit, and lowered to 8 meters to sample microplastics near or on the seafloor or riverbeds - three example positions shown in red. It should be possible to design a head to travel to greater depths, but this will require additional R&D over and above that to achieve what is shown in principle.
NOTE: At the moment this is just a concept, without appropriate levels of funding for research and then for development & build, ZEV research vessels like this will never become a reality. It would be a mistake to think that with a drawing like that above, that the research to make it possible has already been done.
LINKS & REFERENCE
http://